Rose McBride
The Real Housewives Handbook
So you've run out of shows to binge-watch. Buckle up, because you are about to go on the ride of your life.
The Real Housewives franchises on Bravo are my religion. From a very young age, and I mean way too young to be watching rich women yell at each other on reality TV, I can confidently say I have spent hundreds if not thousands of hours consuming the Real Housewives content. I may not know too much about sports or cars, but there is one thing I am 100% sure of: I am an expert on the subculture that is the Real Housewives.
Let's break it down.
The Real Housewives of New York
Where to begin: Season 1
In 2008, The Real Housewives of New York (RHONY) premiered and answered all of my reality TV prayers in one perfect franchise. It is an incredible work of art. In my personal opinion, season 9 was the peak of the franchise (so far) because of its actual all-star cast. No matter the franchise, most Housewives seasons are packed with a few heavy hitters and some additional 'nice-to-have' cast members, but this season in particular was magic because each of the women were true icons who could (and did) hold their own.
In the franchise's history spanning over a decade, you are rewarded the pleasure of meeting icons like Bethenny Frankel, Luann de Lesseps, Sonja Morgan and Ramona Singer and following each of their journeys. I love the New York ladies for many reasons, but the main one being the fact that they are true straight-shooters from New York. They are cut-throat and bossy, but also loyal and authentic.
To give you a taste of what this franchise has to offer, please enjoy one of the most iconic RHONY scenes of all time:
Start at 4:30 for immediate action.
The Real Housewives of Beverly Hills
Where to begin: Season 1
I remember the exact moment the Real Housewives of Beverly Hills (RHOBH) first premiered. It was 2010 and I was in middle school. My mom and I ate ice cream on the couch while our eyes were glued to TV.
This is one of my favorite franchises because I do not want the reality TV I watch to be relatable. I just want to watch an hour of the most glamorous, over the top, out of touch women being fabulous - that is more than enough for me. With RHOBH, that is what I get. The ladies of RHOBH truly invest in serving the fiercest looks and jaw-dropping faces beat to the gods, and for that I am eternally grateful.
There of course is drama and great story lines, but what truly sets this franchise apart from the rest is 1) the strong history some of the women have with each other and 2) (as mentioned above) the LOOKS. Also, the women are great people to follow on Instagram.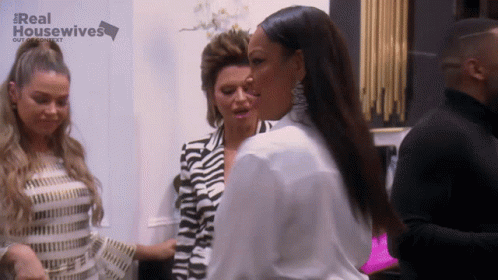 The Real Housewives of Potomac
Where to begin: Season 1 is ideal, but if for some reason this is impossible, I recommend starting with Season 4.
The Real Housewives of Potomac (RHOP) is like a breath of fresh air. It is pure entertainment. In fact, I think this is the most underrated franchise of all the housewives.
RHOP is slowly working its way to becoming my favorite franchise because even in episodes where not much is happening, I am still obsessed because the women are just so fun to watch. They are messy, yet classy. There is some secret ingredient in Potomac that will always have you coming back for more.
Since I actually cannot put into words how magical this franchise is, see for yourself in the videos below.
Karen Huger's Messiest Moments
Gizelle Bryant's Messiest Moments
Me:
The Real Housewives of Atlanta
Where to begin: Season 1, but if you can't for some reason dedicate the time I recommend starting with at least Season 5
The Real Housewives of Atlanta (RHOA) is iconic. Beyonce watches RHOA. Yes, THE Beyonce. From my perspective, this franchise ebbs and flows. I started from the very beginning, like when NeNe and Kim were BFFs beginning, like Big Poppa beginning (real OGs will know this reference). Overall, an incredible franchise with many great seasons, but some seasons are more exciting than others.
In my opinion, NeNe Leakes and Kim Zolciak are the best and worst things to happen to the franchise. Both are iconic, but both are MESSY!!! This is mostly NeNe, though, because she is still on the show and Kim has been long gone with her own spin-off.
Aside from these two, there are even more iconic women on RHOA. Cynthia Bailey is everything. If you looked up stunning in the dictionary, you would find her photo. Kandi Burruss is fabulous! I've loved watching her journey. She is also filled with fun facts, like how she wrote songs for Destiny's Child and TLC, and how she met her husband because he was a producer for RHOA! Eva Marcille (aka Eva Pigford) is another iconic housewife - I am obsessed with the America's Next Top Model of it all. Porsha Williams is a housewife I love both on and off TV. She is 1) gorgeous 2) entertaining and 3) an activist. My personal hot take: Kenya Moore may be entertaining, but she is just mean. A perfect example of this is how she tried to ruin Cynthia's surprise engagement. That is not okay! Sorry not sorry!!!
The Real Housewives of New Jersey
Where to begin: Season 1 for full history of Danielle Staub, but if not, I recommend starting with Season 8
The Real Housewives of New Jersey (RHONJ) is a roller coaster of a franchise. At times, it is explosive and borderline too much, but then again this franchise is legendary. The first few seasons were great, but got uncomfortable because 3 of the 5 original housewives were related. Personally, I hate watching families fight because it makes it too real. Things definitely pick up after a few seasons, though.
One thing I love about RHONJ is how involved the husbands are in the show. They all actually hang out with each other and are ride or die for their wives - so ride or die that Margaret Joesephs and her husband pushed Danielle Staub's husband into a pool during a dinner party. Drama!!!
This is the most legendary scene of all time:
The Real Housewives of Orange County
Where to begin: Season 7
Ah, the Real Housewives of Orange County (RHOC). It will always hold a special place in my heart because this is the franchise that started it all. I was barely 10-years-old when this franchise began, yet somehow I have vivid memories watching the first few seasons. I really have lived for the drama since the beginning.
I will always respect the women from this franchise for paving the way for all housewives, but I must say it is not my favorite to watch. I would describe RHOC as very petty, yet bearable. The show really pick up, though, once icon Heather Dubrow joins the cast in season 7.
Honorable Mention:
The Real Housewives of D.C.
The Real Housewives of D.C. may have only had 11 episodes, but its impact was incredible. Long story short, one housewife and her husband broke into the White House. Seriously. And it was all on camera! Insane.
I do totally understand why they pulled the plug on this franchise, though. Andy Cohen said, "The level of discourse on this show is different. For people who expect to see table flipping or wig pulling, that was never going to happen on this show." Still unreal!